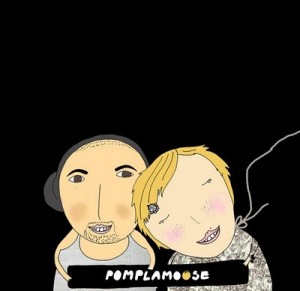 In today's information overloaded and media saturated environment I find myself having little to no expectation for anything surprising me. And definitely not anything exciting me or moving me. How could there be anything?  It's all been done. And done. And done. And overdone.
And then along comes something like 'Pomplamoose'.

And I find myself excited. AND moved.
These guys are amazing. And creative. And talented. I mean really talented. And wildly entertaining to watch.
And best of all, it's something I could enjoy listening to more than once because it sounds fresh, real and honest. It resonates.
Here's why these guys are brilliant:
1. Their songs and arrangements are enjoyable to listen to.
That may sound like a no brainer but it isn't. These guys are talented and proficient enough to get carried away on their instruments and lose sight of the most important question about music –does it sound good?
The girl's (Nataly Dawn) vocal abilities –especially her harmonies –could find her getting carried away into a place where the average person just doesn't get it. And the dude (Jack Conte) with his outrageous multi-instrumentalist talents could very well impress  himself into a cacophony of sound. But he doesn't. They both never lose sight of the ESSENCE of the song.
2. In a world where there is no time for musical sub-cultures to develop they have become their own sub-culture.
Music no longer gives voice to subcultures. (Except maybe rap, but good lord, isn't that overdone). Real music used to sit outside mainstream culture and provide perspective and commentary for those who didn't just want to 'go along with the crowd'. Today, there is only 'crowd' and things move so quickly there is little time for groups to form around music, style, fashion and perspective. The closest thing we see to sub cultures these days are the enclaves that have formed around the iphone. Or the wii. But for music –it's either the ultra-niche or the ultra-sellout. It's some band you never heard of or the latest American Idol who was sleeping with Paula Abdul.
Pomplamoose seem to at once shut themselves off from the world's overload and at the same time embrace everything it has to offer. They embrace the past in 'My Favorite Things' and 'Mr. Sandman'. They embrace the current in 'Beat It' when Michael Jackson died. And they embrace the future in doing their own music which I must say, is quite good.
They have created their own world and it's a world that you can't help but want to be a part of. Like the New York punks. Or the Seattle grunge.  Or the San Francisco hippies. They didn't wait for the next scene to emerge –they made their own.
3. Instead of trying to resist the new-world order of total media saturation, they roll with it and make it work for them.
A brilliant move indeed. So simple yet so effective. Videotape everything you record and show it. How simple is that? Pretty simple. With one important exception though.
They're good.
But their creativity with the Youtube exposure has paid off. It's brought them literally millions of views and to date they have sold 20,000+ copies of their album on itunes and are making a living doing it. Supposedly the major labels are coming a knockin' but these days, who wants them? They are a dying paradigm. But even if Pomplamoose does consider the major label route, They are the ones who have set the tone for discussion.
More power to 'em. They deserve it.