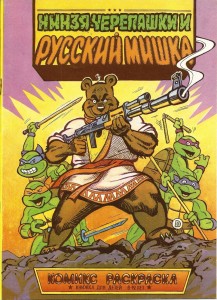 So…Obama's going to pick up the pieces of America's shattered image that Bush left scattered throughout the world and restore the respect, love and admiration everyone used to have for the good ol' US of A, eh?
Apparently not. A Czech article entitled 'A Total Slap in the Face' (literally a punch in the face) recently written by a gent named Vaclav Vlk reveals all is not well in the land of Czech as many fear Obama has thrown them under the bus. Or more accurately –thrown them to the Russian Bear.
In canceling the missile-defense shield, Vlk asserts it's the Munich agreement all over again where Hitler was appeased by getting parts of then-Czechoslovakia as a little snack to satiate his growing hunger. Well, we all know how that worked out. Or, it's like 1945 where the Czechs were handed over to the Bear to be gnawed on for a good forty years.
Vlk says:
The shield was supposed to be an unofficial anchor against further Russian influence over Europe – everyone knows that. Now it looks like Obama slapped us around in public – and without warning – so that Putin gives him an approving pet on the head. Is this supposed to be the new moral leader of the free world???
Ouch.
Also:
Everybody keeps repeating that one has to communicate with Russia. Of course we have to communicate with them but communicate and act, not sheepishly hide in the bushes. If someone kisses someone's behind that is not a communicating. If you think that Moscow believes in these multicultural idealizations and other political senseless piffle then you behave like those politicians who believed Hitler wanted only "peace" and righteousness.
Ouch again. Maybe Vlk is racist?
And again:
During his visit to Prague Obama gave a speech to the Czech public where he talked in a dramatic tone about how he understands us and how he won't ever leave us. He sounded like the new Saint Wenceslas! Well, it is clear now that Obama lied. He threw us under the trampling feet of Russia.
He lied!?! Yep, he's definitely racist. Just ask Joe Wilson.
Oh wait, it's not over:
Obama's decision also reveals the sad fact that the advisers he is surrounded with have no clue about Europe, especially the Eastern part of it. It has been known for a while that Obama is not much of an intellectual but more of a pretty commercial. But the fact that he chose to tell Poland that the US chooses Russia over them on the day of their 70th  anniversary of the Russian occupation – that is not just dumb but also rude.
Wait a minute, wait a minute… It has been known for a while that Obama 'is not much of an intellectual but more of a pretty commercial'? What!?! Known to whom? You mean the Europeans are seeing the wizard behind the teleprompter might be a bit of smoke and mirrors? Why, they all must be racists. It is the Southern part of the Eastern part of the Euro part right? No?
So when does the 'restoring our image' part of the show begin?
Thanks to Tanja for the translation.