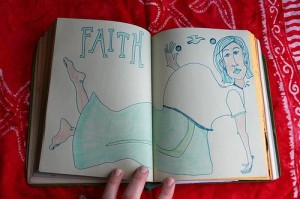 I just watched a movie called "Danielson: a Family Movie". Here is the imdb description-
"Danielson: a Family Movie" is a documentary about unbridled creativity vs. accessibility, Christian faith vs. popular culture, underground music vs. survival, and family vs. individuality. The film follows Daniel Smith, an eccentric musician and visual artist, as he leads his four siblings and best friend to indie rock stardom, eventually facing the struggle to become viable as a solo act. Along the way he mentors an unknown singer-songwriter named Sufjan Stevens whose own subsequent success stands in stark contrast to the music world's uneasy reception of Danielson just a few years prior.
This movie is great. Everyone must see it. Well, at least everyone that cares about the intersection of faith and art and the tensions that intersection creates both artistically as well as commercially. And personally. And spiritually. And so on.
It started me thinking about the role of  'faith' in art. It tends to be a touchy subject in our culture, mainly as it relates to Christians and their expression of Judeo Christian themes in music. For many it is in an instant turn off to hear anything vaguely Christian and I suspect for the most part this is because of two things: One, music has been abused –yes, that's right, abused –as it has been treated as a mere medium for the message. Look, even if the message is 'the greatest story ever told', for goodness sake man, have some respect for the music as an art form (think J.S. Bach). Otherwise, you get a lot of really bad music that goes a long way because of well meaning (and not so well meaning) people giving it a pass. But when it meets some art sensitive critical ears it gets judged –and judged harshly. And oftentimes rightly so.
Second,  -and I think this is the biggest –what many say sounds 'preachy' in faith based music, I believe is something else. I think people instinctively pick up on dishonesty in music. They sense it in a sixth sense sort of way. People know when someone is not totally honest in their artistic expression so to many it comes off as 'preachy'. And sometimes it indeed is just preachy. Which is fine to the preacher who just cares about the message but perhaps music is not the best vehicle for preaching. Maybe the best vehicle for preaching is…preaching? Otherwise maybe Jesus would have pulled a little James Taylor action and sang the Sermon on the Mount. But nope, he just spoke it.
So maybe when music is treated like a second-class red headed stepchild whose job is to carry the water bucket, people react negatively to it because it lacks what most people react to in music –honesty.
Look, most people don't analyze chord progressions or drum tones or lyrics –they react to them. And they react to that which resonates and what resonates with people is when something rings true. When it feels like someone finally says something you have been struggling your whole life to say and it hits you like, "That's it! I knew I was not alone!"
So when someone comes along and sings a song expressing their personal journey and there is an honest spiritual component to it –people will be touched. And moved. Even if they don't share the same belief.
Like with Danielson.
And Sufjan Stevens.
Wildly different artistic styles indeed, but both undeniably sincere.
There's a reason Jeff Buckley said Danielson was a must hear.
And there's a reason Stevens gets asked to sing on the ultra hipster KCRW and can play a song with lyrics about praying for a dying friend at a Bible study.
It's because they are both honest and dedicated to their music as a craft. And they both resonate truth in what they are saying. Stevens in a highly accessible 'even my mom likes it' sort of way, and Danielson in a Frank Zappaesque, ultra-challenging 'is there something I'm not getting?' sort of way, but both true nonetheless.
When faith finds its expression in an artistic medium, honesty is by far the greatest commandment. And really, is it not a lifelong struggle to be honest –even with ourselves?