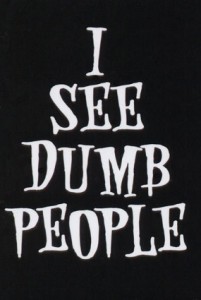 I haven't quite made my fortune playing music just yet, so I involve myself in various entrepreneurial adventures to butter my bread.  Recently, I had to deal with the city for some building issues related to a business I am involved in. I am now fully convinced that governments –be they local city governments or federal –are completely detached from reality in form and function. And unfortunately most (not all –if you work for the government I'm sure you are the exception) of the people who work for the government are detached as well. Detached mainly from the reality of business and anything that is not about codes, procedures, regulations and violations of the aforementioned.

People that work for the 'government' know only about doing what is necessary to keep their jobs and cover their butts so that if anything goes wrong –it is not their fault. Basic CYA. Government workers develop a mindset that is the complete antithesis of business expansion and development. It is a mindset based in fear. It is a mindset that knows nothing of risk and reward.  And the result is the trampling of three things that in the rest of life would guide you into a life of plenty-
Common sense
Truth
Reality
That's right, the government mindset makes a mockery of these. I found myself getting so upset and frustrated dealing with people who completely disregard what is so basic and fundamental to life and living. But once I realized these three things do not matter, or at best, they are nowhere near the top of the list in what does matter, my frustration lessened greatly. I realized it's not worth it. These government people actually play by a different set of rules. Once you realize you can toss common sense, truth and reality out the window it becomes a whole lot easier –in fact, it becomes like a game –a really silly, silly game.
For example, one of the agencies I had to deal with was the air pollution control –a local offshoot of the EPA. The guy at the desk (who was actually very nice and helpful) asked me if we were going to use less than 20 gallons of paint material a year. I told him I don't know, why? He said if I am, I am exempt from a permit, which costs about a grand a year. So I said, "Yeah… I don't think I will be using that much…" Wap –stamped my little city card thingy with 'exempt'.
So here's where our trinity of truth gets a swift kick. Common sense would say, "Dude, of course I'm going to use more than that!! Why would I be spending thousands of dollars on this whole fiasco if I'm barely going to use any material?!?!" But see, he only has to follow his procedure and ask me the question to which I reply (in a monotone, robotic voice), "At this point I do not believe I will be using more than the maximum 20 gallons of material a year. (wink)"  To which he then says, "OK" and gives me the stamp.
Do I feel bad about this?
Uh…No. Make that NO as in capital N capital O. Why? Because if I said 'Yes' and cough up the grand a year, they do absolutely nothing different except take my money. They don't say, 'Oh well then, if your business is productive enough to be doing that much and you give us a grand a year, you then get discounts on waste disposal and free business resources limited to those that pay the annual fee, and free tickets to Seaworld and blah blah blah. No, it's, "Oh you use 20 gallons of material a year instead of 19.99999? Give us a thousand bucks you entrepreneurial, overly productive, industrial turd".
Oh yeah? Bite me.
Then there is the fire department. Not the heroic, actual fire fighting fire department, no, it's the overweight fire code 'chief' with a badge that sits proudly above the first of many rolls of fat, or the snippy fire marshal lady with a vendetta against all things good and happy.
Reality was not a factor to these people AT ALL.
The reality is the entire building has sprinklers everywhere you turn.
The 'code' says they need to be moved six inches over from where they currently sit. Fire 'chief' barks, "It's so people don't die!"
Huh?
Reality says these sprinklers are going to soak the crap out of anything in the entire building if they get tripped. Chief doesn't care. Fire marshalette with a chip on her shoulder the size of Frito Lay's headquarters doesn't care. It's six inches over from where it 'should' be. So move them. And reschedule another inspection. And waste more time. And hold up productivity (which means nothing to them). So they can fill up their schedule and look 'busy'. And Lord knows they need to look busy because there is nothing for them to do since the housing industry came to a grinding halt.
Like I said –it's a mindset rooted in fear. Fear that they will have nothing to do and consequently get laid off. So they create 'problems' and work to make themselves look necessary.
Again, there are plenty of people in the government that are noble and well meaning and do good work. But the problem is the bureaucracy of government creates systems and mindsets that end up defying common sense, truth and reality. And the people working in that bureaucracy become blind to it. It's like they drink the kool-aid. It's like it brings out the zombie in them. And then the entrepreneur -who will starve if the venture fails or loses money- is left trying to negotiate or convince with the tools of logic and reality, only to be met with a blank stare and a bit of drool.  It can really drive one insane.
Until you learn the golden trinity of truth does not apply.
Then it's just a game. A game where the silliest one wins.
Oh, and by the way -our nation is considering turning over a huge part of the health industry to government control?! I've got one thing to say to that-
"I see dead people".