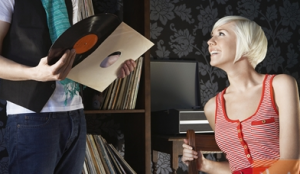 When I was in the fourth grade, Tuesday was music day. We would go to 'music class' and the ultra cool teacher would let us bring our Records –not CD's –and play them for the class.
For me, it was the most important hour of my week.
Those records that I brought were part of me –they were a huge part of my identity and I would labor over my record selection and song choice. Looking back, I would've much preferred an ideallic home life with an awesome all-American Dad that played catch with me on the weekends sorta stuff, but that wasn't happening for me.  Music was. And that's where I would retreat and find strength. So we would get one song to pick and play and the entire class had to sit and listen to the whole thing. I grew up with three cousins who were 5-10 years older than me so they got me into vintage and classic rock while all my little buddies were listening to the flavor of the day. So they never knew what was gonna hit 'em . Oh Lord… it was heaven, cranking 'Back in the Saddle' by Aerosmith, or 'Sheer Heart Attack' by Queen, while the record cover was passed around by the bewildered class.
I got it. They didn't.  I was the music guru. And I was there to educate them on the majesty of rock for 5 minutes.
Part of the education process was the album cover itself. The double fold out of Kiss Alive II (complete with tattoos and a poster), or the spinning wheel of Led Zeppelin III, were worthy of hours of perusing. I can't imagine a cassette or cd or an mp3 having the same effect. No, the album was a statement –an artistic proclamation that you could not ignore when it's full 12"  glory was staring you in the face. Kind of like seeing the statue of David for the first time. But with sound.
Well, I thought those days were gone. Turns out I'm wrong.
I just got an email from the owner of our record label in Prague, Czech Republic. He said he is excited we are getting close to finishing the record and he has an idea. The European resellers and shops consider the CD a dead format and are stocking vinyl more and more so he wants us to consider pressing the new record in vinyl with a coupon where you can download the mp3's. It's quickly becoming the standard in Europe and it's makes sense we would do like wise.
My answer? NO JASNE!!! (Czech for HELL YEAH!!)
The thought of putting up Led Zeppelin IV, Kiss Alive!, and The Tall Ships new record side by side… Oh my goodness, I just peed a little.
So I started doing a little research on the subject and sho' 'nuff, vinyl sales are on the rise. In a big way. I've already heard that in a few places but for some reason I kind of ignored it. Maybe because the whole 7" thing has been going on even since the CD's peak and it was inconsequential, really. But when I saw that for the indie artist it is quickly becoming pointless to even press a CD, that got me excited.
So then I started to wax philosophical about it all. Why are people buying records when you can download them for free, or I mean, um, you know for .99 a track?
One, it just sounds better. Analog is just friendlier on the ears. It's a pain, yes –clean the records or clean the heads…but when it's all together –it rules. When I want to go running and listen to the Foo Fighters, of course I want my iPod, but when I want to sink my teeth into something and experience it –I want that vinyl record baby.
Second, when it comes to music these days, for the most part the age of mass consumption of a single item is basically gone. Save for a few American Idol contestants, we are in the age of the niche where it's basically pointless to try and sell 1.5 million records anymore and be a real lasting artist. Reason being is now there are 1.5 million different selections available for 1.5 million individual tastes. So now it's all about the core following –the dedicated listeners –not the peripheral ones. And it's those listeners that want an 'object'.
In my UCSD art and media theory classes, there was much discussion about the 'art object' and how that was to a large degree lost or at least shifted with the industrial age and mass production. If I remember correctly it was impressionist art that first was sold in the 'print' versus the 'original'. And with the advent of digital reproduction the academic discussion revolves around the further 'degradation' of the 'original' into ones and zeroes leaving the question –where then is the actual 'art'? The discussion can go on forever but what I believe is happening now is people are growing tired of the 'objectlessness' of the 'download'. It's fine for the casual listener, but the dedicated listener wants some-thing. They want a connection.
Hello vinyl long play album. Welcome back my lovely little 12" friend.
There's a grade school down the street from me. When our LP is finished, I just may have to walk there with the record tucked under my arm and when I see some kid looking at it I'll just nod with authority and say, "Whadup."