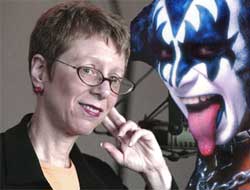 This is old news but if you've never heard it, it is a must hear. And for someone like myself who dressed up as Gene Simmons two Halloweens in a row, this is golden.
Gene Simmons- the hedonist, rockstar, family(ish) man, money lover vs. Terry Gross –the bookwormish, pseudo-intellectual snob.
Oh Lord, it's a match made in heaven.
What I love about this interview is they both have valid points in their perceptions, accusations and judgments of each other. Yes Terry, Gene is obnoxious but you are a snob. Yes Gene, Terry is a snob but you are arrogant.
It is priceless to her Gross's genuine laughter (Simmons can be quite funny) turn into nervous, uncomfortable laughter. My favorite part is at the end when Simmons turns her oh-so-righteous 'question' right back on her-
Gross: "I'd like to think that the personality that you've presented on our show today is a persona that you've affected as a member of KISS, something that you do on stage and before a microphone but you're not nearly as obnoxious in the privacy of your own home or when you're having dinner with friends."
Simmons: "Fair enough. And I'd like to think that the boring lady that's talking to me now is a lot sexier and more interesting than the one who's doing NPR –all studious and reserved…I bet you're a lot of fun at a party."
Some other killer quotes-
Gross: How would you describe the 'pattern' [oh please…] on your face?
Simmons: "A banker's pattern –when you see it you say, "Boy that guy has a lot of money…"
***
Simmons: "I was going to suggest that you get outside of the musty place where you can count the dust particles falling around you, and get out in the world and see what everybody else is doing."
Gross: "Having sex with you?"
Simmons: "Well, if you chose, but you'd have to stand in line…"
***
Gross: "One of the things you've done onstage is your fire eating, how and why did you start doing that?"
Simmons: "So that people could say, "Wow, look at him fire breathe!"
It's about 25 minutes long but well worth the listen. Check it out.