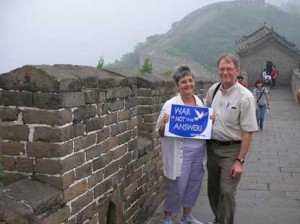 So I'm driving along on this fine 4th of July weekend and I come across one of those vehicles with 500 bumper stickers on the back with things like "War is Not the Answer", "Stop Blackwater Now", "Endless war", and so on. A bit ironic to see on this Independence Day weekend when we celebrate a day when America won it's freedom through, um, like, war. There are a lot of those cars here in this hippie type part of San Diego so I come across them a fair amount. Most of the time I could care less, but every once in awhile I am so amazed at the smattering of thoughtless slogans plastered on someone's car I cannot resist the urge to race up next to them and see what manner of human feels compelled to broadcast their… 'views' to the world in such a fashion.
Just when I get up to the car and get ready to engage the person in some sort of short and hopefully sweet discussion, I am usually amazed at what I find. 90% of the time it is one of two types-
A late teen, early twenty something kid with two or more facial piercings.
A fifty+  empty nester mom/Grandma with saggy triceps.
So, with the kid, any hope of reaching them with some thought provoking quip is pretty much a lost cause since it's not really about the facts anyway -it's about identity. It's about getting behind a cause and getting the whole, "Yeah dude! I believe in something!" thing going on because it creates a momentary sense of purpose and consequential identity in being aligned with a cause. So knowing it's not about a well thought out point of view diffuses my passion to give them a quick schooling. I feel more compelled to yell at them, "Zeppelin Rules!" and flash the Heavy Metal sign in allegiance to their youthful quest for truth.
It's the Grandma types with the death race 2000 hybrids that perplex me.
I mean, the "Yeah dude!" 20 yr old in a beatup '87 Sentra who hasn't learned much in life makes sense but…Grandma? Or Aunt Sue? Or the nice lady who lives next door with thirty cats ?
Some of them I'm sure were hippies –I mean real live, psychedelic, 60's hippies that lived through a true social revolution. But it makes sense to be 18 in 1969 and pissed off that your friend was shipped off to Vietnam and came home in a box. It makes sense that a muddy, complex war like Vietnam would evoke a visceral reaction that screamed, "No more war!".
But at sixty you would think that they would have learned that war and politics are highly dynamic and complex realities that cannot be solved if someone were to simply obey a bumper sticker.
But with the number of "Visualize World Peace" stickers I see, I guess not.
So what do I do when I race up to the car, roll down my window and see that it's a Grandma/emptynester gone wild?
I smile. And wave.
I mean what can you say if they are still in a place where they think that bumper sticker logic will solve the world's problems?
"Visualize Whirled Peas" I guess.