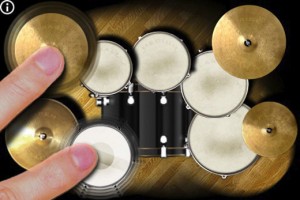 A few weeks ago I was finishing up the last drum tracks for The Tall Ships latest recording. I thought I would give it a shot and see how my iPhone handled  recording my drums. Surprisingly, it makes for some funky, distorted, break beat kind of dittys that beg to be made into ringtones. So here's how you do it-
1. Buy some drums.
2. Learn how to play them.
3. Learn how to tune them.
4. Record some beats with your iPhone. Here's some tips-
When I made my 'Ringbeats' I put the iphone snare drum high, about three feet away from the kit, to the side of the kit. I had the mic pointing   towards the kick and snare. I knew it was going to be primarily about kick, snare and hi-hat.
When I did it I used a recorder app I bought for 99 cents. With the recent software upgrade the iPhone has its own recorder so that might work just fine.
Don't bother with playing toms or cymbals, the little iMic can't handle it. Beats only.
The size and recording qualities of the room does matter. In this case I think a small to medium room works best because with too much room sound it's, well, too much. Here's my small room Bonhamesque Ringtone -probably my favorite: SmallRoomRingbeat
Here's a large room thing I tried when we went to a wherehouse to record some very specific drum sections and overdubs. LargeRoomRingbeat The problem with this is the kick definition is not there like it is in the small room. I may have been able to change that with moving the mic, or I mean the iPhone around but it was a quick thing. I just like the ultra compressed/distorted sound of the small room.
5. Transfer the audio clips to your computer.
6. For Mac- Open Garageband and create a new song. Drag the audio file into the track area.
7. Trim track to less than 40 seconds. Make sure the playback is set to loop and the yellow loop bar above is over your track.
8. Select share and select 'Send ringtone to itunes'.
9. Plug in iPhone and drag your new ringtone from the itunes music library section into the ringtone section for the iphone.
10. Rock that puppy out.
11. For the PC – Unfortunately, if you do not have a mac it is a bit more complicated. Here is a link to the PC method. Check the comments for solutions to any problems you might have.